HARRISBURG – Senators Ryan P. Aument (R-36) and Scott Martin (R-13) voted in favor of a pair of bills this week that would help fire and EMS companies deal with some of the most significant financial and recruitment challenges they face today.
Senate Bill 908 would create a voter referendum to expand the Volunteer Fire Company, Ambulance Service and Rescue Squad Assistance program to include career fire and EMS companies. The bill would also increase the maximum loan amounts allowed by the program, expand the allowable list of uses of Fire Relief Funding and review the current funding formula.
The program was originally created with a bond issue that was approved by voters in 1976. The referendum would allow the state's 22 paid companies and 72 combination paid and volunteer companies to access the program. In 2018, $55.1 million was distributed to over 2,500 municipalities to be turned over to fire relief associations.
Senate Bill 910 would extend the life of the Fire Company and Emergency Medical Service Grant Program to June 2024. The program, which was created in 2003, is currently set to expire in June of this year. The bill would also expand the use of the program to include recruitment and retention programs, as well as volunteer fire length of service awards.
More than 80 Lancaster County fire and EMS companies recently received grants through the program. A complete list of recipients is available here.
"Fire and EMS services are a crucial component of every Lancaster County community, and we owe a lot to these brave men and women who courageously put their lives on the line to serve and protect us all in times of great need," said Aument. "I am thrilled that so many Lancaster County fire and EMS companies were chosen to receive grant awards to help them bolster their programs and their recruitment efforts."
"Our fire and EMS companies face enormous financial pressures due to the rising cost of equipment and training, as well as a dwindling number of volunteers in the emergency response community," Martin said. "These two programs are a critical part of the state's ongoing efforts to help our first responders meet these challenges and continue their amazing efforts to protect our lives and property."
Martin also authored a law that went into effect earlier this month to exempt volunteer fire companies from paying sales tax on food and beverages sold during fundraising events.
According to the State Fire Commissioner, Pennsylvania currently has nearly 2,450 fire companies – including about 2,350 volunteer departments, more than any other state in the nation.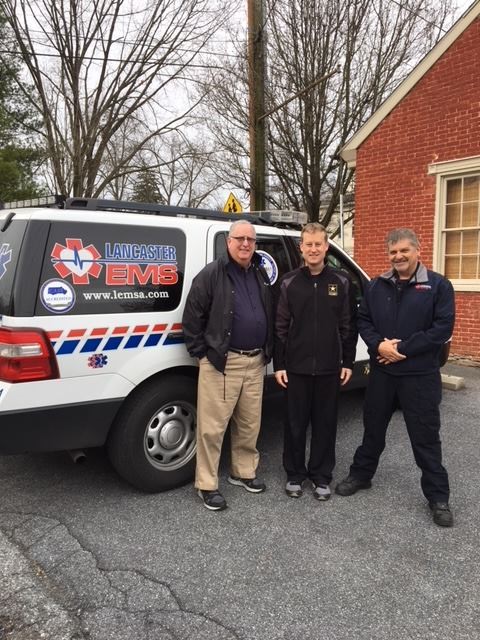 Senator Aument participates in a ride-along with Lancaster Emergency Medical Services Association.
CONTACT: Terry Trego (717) 787-6535 (Senator Martin)
Ryan Boop (717) 787-4420 (Senator Aument)